At A Glance
Jeep Wrangler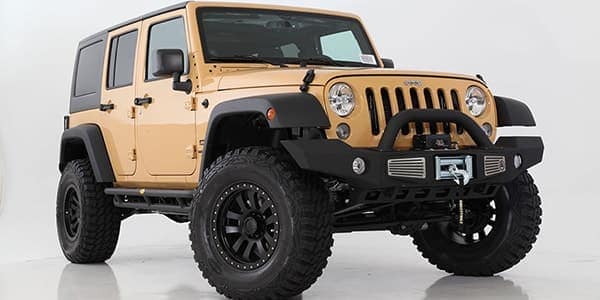 Wrangler is a global icon that's been in production for almost 80 years
Wrangler includes a more durable solid front axle design
Fold-down windshield
Available 3.0L EcoDiesel V6 engine
Available Sky One-Touch™ Power Top
Available Trac-Lok® limited-slip rear differential
Jeep Wrangler 4xe plug-in hybrid
Jeep Wrangler Rubicon 392 Concept
Ford Bronco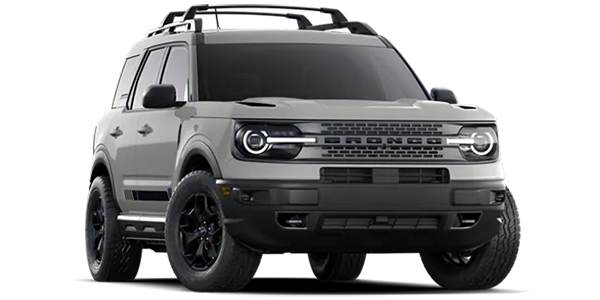 2-door and 4-door models with removable doors
Removable modular hard top
Four-cylinder and V6 engines
Automatic and manual transmissions
Choice of four-wheel-drive systems
Large touchscreen infotainment system
"Easter eggs" hidden throughout the vehicle
Six trim levels
A limited First Edition
What's Up With the Bronco?
Bronco boasts 6 different trim levels based on various off-roading conditions. There are both 2 and 4-door options available for purchase, and the basic 2-door model starts at $28,500. A 4-cylinder gas engine comes standard. However, Bronco also offers an available 6-cylinder engine with 2.7L EcoBoost that can potentially produce up to 310 HP and 400lbs of torque. In the cockpit, you can find a panel that controls all of the infotainment options. The seating allows for a 60/40 split and second row seats that fold down. True to off-roading vehicles, the interior is available with rubberized washable floors that have integrated drains. There are several roof options to choose from, including a removable hardtop.
The Tried & True Wrangler vs Bronco's Reintroduced Design
While the Bronco admittedly offers a wide variety of features, it's simply not up to the challenge of beating the Wrangler at its own game. It has been out of production for over 25 years, and it has only been recently reintroduced with a retro-styling that recalls the original 1960 version. The Wrangler starts at $28,295 for the base 2-door model, and it offers comparable features and capabilities to the Bronco, plus many extra ones. Additionally, the community support and availability of aftermarket parts that Wrangler has is unmatched by the Bronco.
Jeep is also innovating what off-roading looks like in 2021. The 2021 Jeep Wrangler 4xe plug-in hybrid and 392 Concept models don't have any competition in the new Ford Bronco.
While Bronco was away, Wrangler continued to earn awards for its capability and power, such as:
Four Wheeler 2019 and 2020 SUV of the Year
2020 Off-road SUV of Texas
2019 Motor Trend SUV of the Year
Additionally, Wrangler's resale value is a great customer benefit. The world-renowned Jeep SUV has even received rewards for how well it retains value, including:
Kelley Blue Book 2020 5-Year Cost to Own
Kelley Blue Book 2020 Best Resale Value
ALG 2020 Residual Value Award
IntelliChoice 2020 Best Overall Value
All in all, Jeep Wrangler is legendary in name and deed, globally recognized and celebrated. However, it's undeniable that the 2021 Ford Bronco has a buzzing excitement around it, arising out of its relaunch.
Conclusion:
2021 Ford Bronco and the Jeep Wrangler are sure competitors in the off-roading SUV landscape, but there is only one real winner. The Wrangler is the most iconic adventuring vehicle in the world. It offers a sophisticated mixture of comfort, power, and capability. The Bronco, while off to a great start, is dusting itself off after 25 long years. It has a way to go before it can go toe-to-toe with the Wrangler. The verdict is and has always been clear: Wrangler is the vehicle you can count on when the great outdoors starts calling your name.