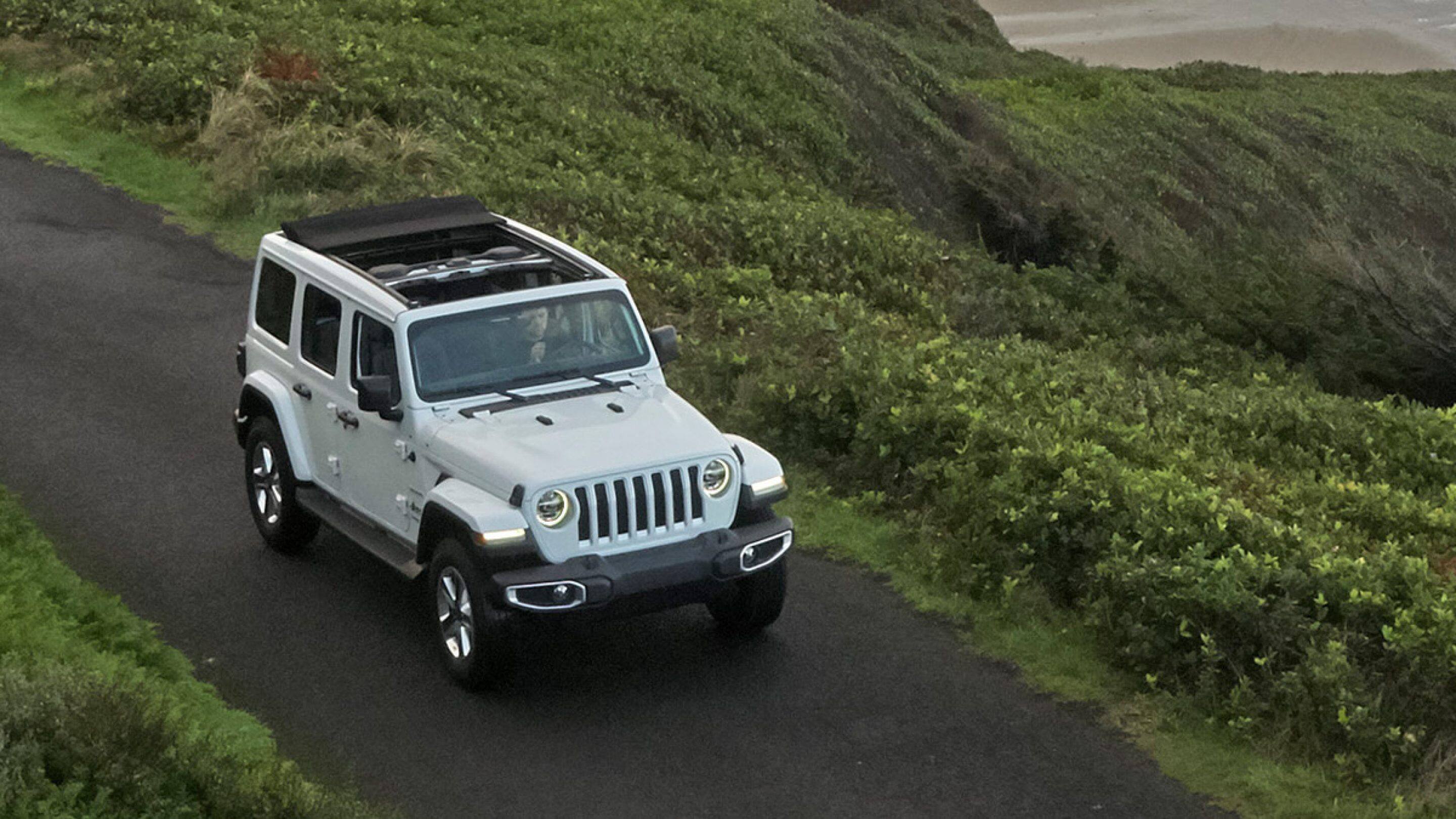 Three reasons to get out of your house and into an all-new 2020 Jeep Wrangler
The all-new 2020 Jeep Wrangler is a classic Wrangler, but with an updated and revived feel that's bound to make for a great adventure. Every 2020 Wrangler model is outfitted with the Trail Rated Badge certifying every model is ready to get through those muddy and rocky trails, and guarantee you'll want out of your house. There are many amazing features of the new Wrangler that will be sure to get you to come to Hendrick Chrysler Jeep Fiat to check out the best inventory of Wranglers in Fayetteville. Highlights of the top 3 features include the amazing new technology found in the 2020 Wranglers that's going to make for a great road trip. The all-new Jeep Wranglers are also the safest that they have ever been with new security features to keep you and your family safe. The Wrangler is going to have you and your family soaking up the sun all summer and making memories that will last a lifetime!
Technology that will change the way you see Wranglers
Technology has always been a great convenience factor in vehicles that have made our lives easier. There are now even more features in the 2020 Jeep Wrangler that will make your life easier and seamlessly interact with your lifestyle. The newest feature in the Wrangler is the Amazon Alexa® integration. You are now able to ask Alexa about your Wrangler and get updates while in your home before your drive. Alexa is able to tell you your fuel level, send destinations for your trip, and Alexa is even able to start your Wrangler. There are also some more upgrades to the technology that makes your Wrangler more connected and integrated to your phone and devices than ever before. You are now able to use your 8.4 inch Uconnect display to enable a hotspot allowing up to 8 devices and up to a 50 ft. radius. This technology will make for an enjoyable road trip with the family and allow everyone to stay connected. Destination mapping is now more convenient with a 4C Uconnect NAV system that allows for connections to ATMs, restaurants, gas stations, and more. Hendrick Chrysler Jeep Fiat has the best inventory in the Fayetteville, Fort Bragg, and Hope Mills, North Carolina and plenty of options with these great technology packages!
Advanced features that will keep your family safe
At Hendrick Chrysler Jeep Fiat the safety of our customers and their family is very important to us. The new 2020 Jeep Wrangler is now safer than ever with features like Adaptive Cruise Control. Adaptive Cruise Control, keeps you separated from the car in front of you, up to any preselected distance you choose, while actively driving with cruise control enabled. Adaptive features like this make the Wrangler SUV even safer than they previously were. Another great safety feature is the ParkSense Rear Parking Assist System ®which notifies you when you are in dangerously close proximity to a surrounding object or vehicle. This feature works proactively to keep you safe from any accidents when backing up your Jeep, trying to park, or any other scenario. These upgrades allow for a safer, more convenient drive, and greater peace of mind.
Excellent summer adventures for the family
It is time for you and your family to get out of the house and enjoy a 2020 Jeep Wrangler driving through beautiful North Carolina. Enjoy the sun and experience the great outdoors while driving through a park or driving to the coast with your friends and family. This adventure packed Wrangler is up for any trip or family fun you have!
Hendrick Chrysler Jeep of Fayetteville makes getting into your next vehicle as seamless as possible and on your way to your next adventure. The buying experience is made easier by our amazing staff that will work tirelessly to get you in the Wrangler you deserve. We have the best inventory in the Fayetteville area including the Fort Bragg area and Hope Mills area! Come in and test drive your new 2020 Jeep Wrangler today!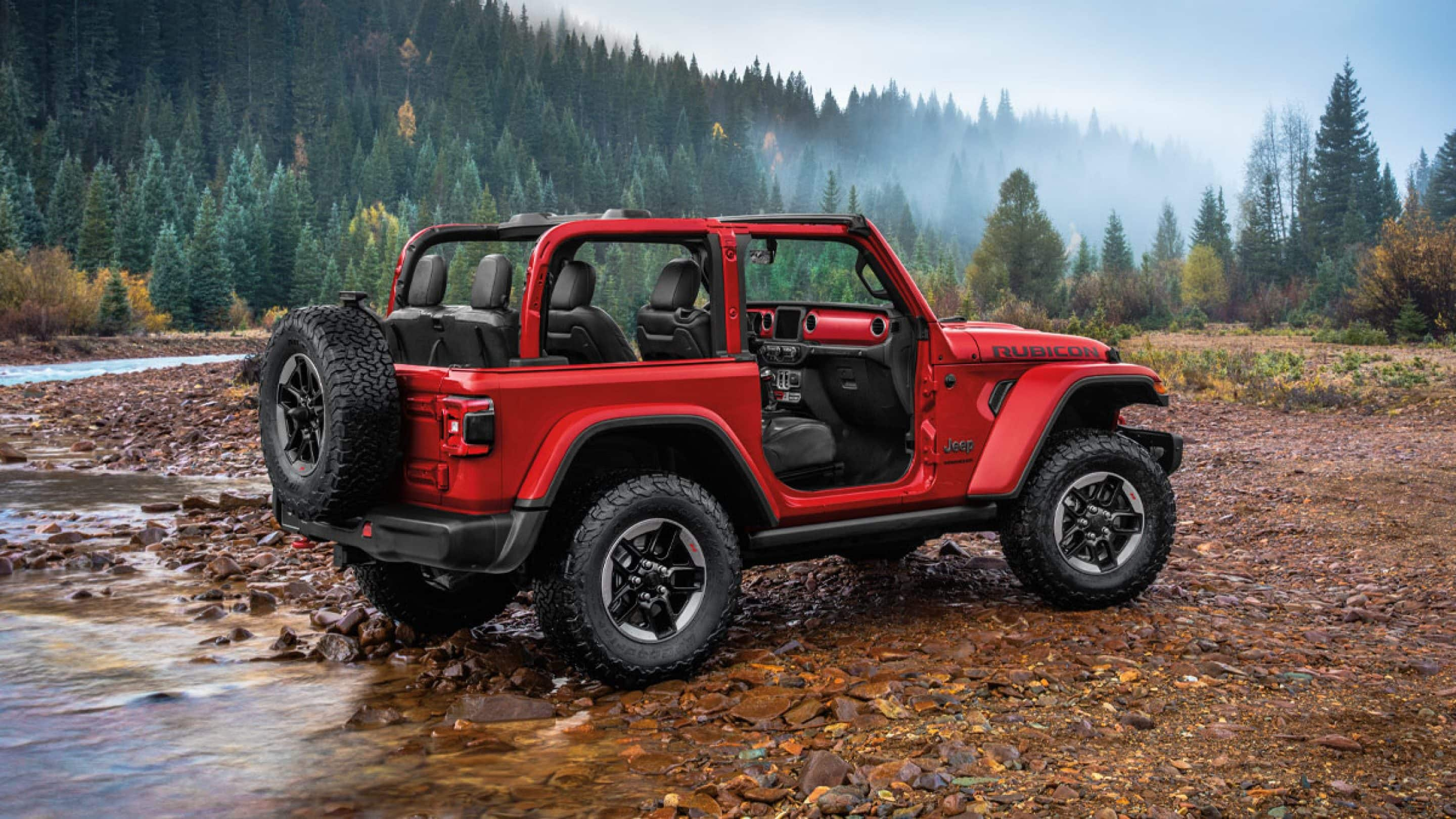 Top Features of the 2020 Jeep Wrangler
There's a reason the Jeep Wrangler has become so synonymous with off-roading, trail-navigating vehicles. It's simple, by design, Jeeps are the best-equipped SUVs made to forge their own path. Here are a few features of the 2020 Wrangler that make this rugged SUV capable of taking you anywhere off the beaten path:
Well Known Jeep Four-Wheel Drive
The most eminent reasons the Wrangler is rugged enough for any off-roading adventure are the expertly designed four-wheel-drive systems it's equipped with. The 2020 Jeep Wrangler has the option between three of these systems, each offering its own specialty. If you're looking for the best off-roading Wrangler, you'll want to stick with the Rock-Trac or Command-Trac four-wheel-drive systems. These take off-roading to the next level, whether you're slinging mud, trailing through a North Carolina rock bed, or rock-crawling over tough terrain, you can count on your Jeep Wrangler to deliver exceptional performance.
Electronic Locking Differentials
The 2020 Jeep Wrangler is available in a variety of trim levels allowing you to customize your ride with the exact off-roading gear you need. If what you want is the highest off-road capability, shop the Wrangler Rubicon. This model comes outfitted with Tru-Lok electronic locking differentials that redirect power to the wheels that need it the most. This is especially handy when you're rock-crawling as some wheels have more of a connection to the ground than others.
Electronic Sway Bar Disconnect
This is one feature that the Wrangler uses to leave other would-be adventuring vehicles behind. The electronic sway bar disconnect feature allows the front wheels to drop down away from the rest of the Wrangler. This helps keep your wheels on the ground on bumpy terrain, as well as keeping your cabin more stable as you traverse said terrain.
Off-Road Pages
Everything vital to your trajectory is within view, thanks to the available 7-inch Driver Information Digital Cluster Display and center console display. These display's supply the information you need exactly when you need it. You can even customize the display to help you keep track of key stats like speed, Navigation, Speed Control, and security features, giving you a birds eye view on how you and your Wrangler are performing. This center console can display off-road pages and updates about your drivetrain settings, such as whether your axles are locked and your sway bar is connected or not and gives you measurements about the pitches and rolls your Wrangler is experiencing. It even tells you your exact coordinates and altitude. In this Wrangler, you're the captain and this display is your co-pilot!
Skid Plates
The Wrangler is equipped with underbody skid plates that help protect its vital organs from rough terrain. Measures like these speak to the Wrangler's durability and dedication to keeping you and your vehicle healthy and ready to tackle adventures as they arise.
Tow Hooks
Power and responsibility come natuarally behind the wheel of a Wrangler. For the Wrangler, that means helping out lesser vehicles stuck in the mud. The 2020 Wrangler is equipped with rear and front tow hooks that allow you to harness your Jeep's strength to be used for good, whether it's pulling your friend's car off an icy embankment or ripping stumps out of the ground.
If you think you're ready to explore the world from behind the wheel of a 2020 Jeep Wrangler, come see our team at Hendrick Chrysler Jeep FIAT in Fayetteville, North Carolina. After a quick test drive, you'll see for yourself why so many North Carolina adventurers turn to the Wrangler when they need an trail-ready vehicle.